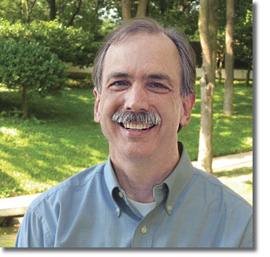 Steve Johnson MA, MABS, LPC has served as a full-time counselor for over 30 years with the desire of offering biblically based counseling to people in the midst of challenges or struggles. Steve desires to offer hope, encouragement, and perspective within a foundation of believing in God's redemptive purposes for His people.
Steve works with adults in individual, couples or group counseling. For more information about his counseling and specialties, see "Biography" below.
Biography
Steve has served as a fulltime counselor for over 30 years, 25 of those have been in the counseling centers of two different churches.  Steve is a man of the word, discerning and yet intuitive, laid back and able to set all who know him at ease.  He enjoys coming alongside clients in the midst of challenges and seeing the fruit of their hard work and growth.  Steve is married to Dana and has three awesome sons.
Areas of Specialty:
Individual and couples counseling
Full-time and volunteer church staff
Emergency service workers: police, fire, and medical
Emotional, physical, and sexual abuse
Spiritual abuse and oppression
Trauma Recovery
Depression and Anxiety
Steve chose to earn a Masters in Biblical Studies at Dallas Theological Seminary to become better equipped in the Word before seeking a masters in counseling. While at DTS, he learned of Larry Crabb and Dan Allender's Masters in Biblical Counseling program in Colorado and graduated from this program in 1990. Steve has also been influenced by the works of John Eldridge, Henry Nouwen and John Regier. Additionally, Steve worked for several years for Incest Recovery Association in Dallas.
Fees and Forms
Below are forms that are needed to help me better understand you and to offer you the most accurate assessment as possible. Please download the forms and fill them out as completely as possible and bring them with you on your first appointment. During that first visit we will review the forms and answer any questions you might have regarding them. Your information is kept confidential.
Please click on the appropriate forms for printing:
Disclosure and Consent Form – describes my view of the counseling process and outlines issues related to confidentiality, counselor responsibilities, and client responsibilities.
Client Information Form – this form provides you with a place to give contact information, information about what has brought you into counseling, and other general items that will help you and I begin the counseling process well