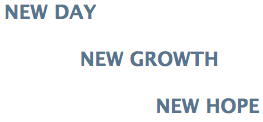 Welcome to New Day Christian Counseling, LLC.
New Day was established by Dianne L. Taylor, MA, LPC, with the goal of offering biblically-based counseling to those who are at a crossroad in life or who may be struggling to make sense of an often confusing world.
Dianne sees counseling as a way of stepping alongside someone as he or she faces difficult challenges in life. She views each new day as an opportunity to change, grow, and gather hope.
See Biography below to learn more about Dianne's counseling and areas of focus.
"You who seek God, let your heart revive. For the Lord hears the needy and does not despise His who are prisoners." (Psalm 69:32b-33)
Biography
I was twenty-two years old when I filled the role of houseparent for troubled teens in a residential treatment center. Over the next two years I walked through many intense experiences with over 35 of these girls as they struggled with the painful realities of their young lives. This opportunity, along with my years of experience as a pastor's wife, led me to seek a formal education in the field of counseling and spurred my desire to prioritize my understanding of biblical truth in order to offer counseling intervention based on solid biblical principles, a personal relationship with Christ, and academic training.
I hold a Master of Arts Degree in counseling from Amberton University. In addition I have completed several lay bible classes at Dallas Theological Seminary as well as graduate level classes in biblical counseling. My practice consists of individual counseling, couples counseling, group counseling, and teaching workshops.
My areas of focus include:
Trauma Recovery
Adult ADHD Management
Depression, Anxiety, and other Emotional Issues
Pre-marital and Marriage Counseling
Struggles unique to missionaries and other full time Christian workers
Through my years as a counselor I have taught CEU classes, counseling classes on a community college level and Special Education on a high school level. Currently I counsel, meet with counseling students related to class requirements, and pursue free-lance writing.
My husband Mark and I enjoy spending time with our grown children and our grandchildren, beach walking in Maine, exploring bookstores and visiting historical sites around the country.
Mark and I live in the Dallas area.
Fees and Forms
What are your fees and do you take insurance?
Dianne charges $120.00 per one hour session. Receipts are insurance ready and are provided at the time of service. Payment is required at time of service unless other arrangements are made before the session. Clients may choose to use their out-of-network benefits to help with the cost of counseling. Other clients may prefer not to use insurance for privacy reasons.
If you feel you would like consideration for a reduced fee, please request an Application for Fee Reduction while scheduling your appointment. Fee reductions are based on financial need.
Do I need to fill out any forms before my first appointment?
Yes. All clients need to fill out a Disclosure and Consent Form along with a Biographical Form. Forms are available to print below. Please have these forms filled out before your first session. If you are unable to print out the forms, please let Dianne know and she will have forms available for you to fill out when you arrive for your appointment. Please come 15 minutes early to do this.
Click on the appropriate forms for printing:
Disclosure and Consent Form-Individual Counseling-This form describes Dianne's view of the counseling process and outlines issues related to confidentiality, counselor responsibilities, and client responsibilities.
Disclosure and Consent Form-Marriage Counseling-This form describes Dianne's view of the counseling process and outlines issues related to confidentiality (general and specific to marriage counseling), counselor responsibilities, and client responsibilities.
Biographical Form-This form provides you with a place to give Dianne contact information, information about what has brought you into counseling, and other general items that will help you and Dianne begin the counseling process well. Dianne will spend time going through this form with you in the first session to be sure your concerns and goals have been identified.